Gumtree Appearing for Web Design SERPS
Posted on September 20, 2014 under SEO
This is interesting for those of us who like to study the SERPS.
For the first time Gumtree is on the first page of Google SERPS for 'web design Belfast'. I've checked this over the last couple of weeks and http://www.gumtree.com/website-design-services/belfast appears at number 6 in Google (see the screenshot below).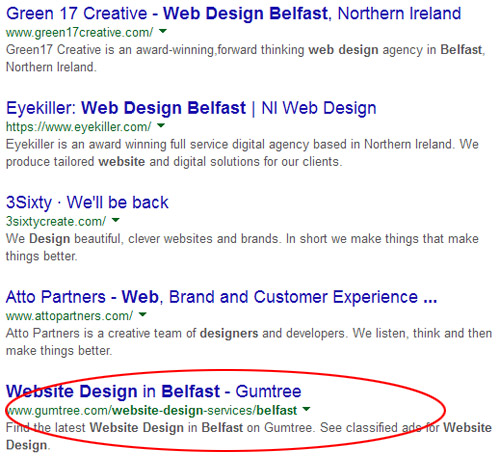 Google stopped showing Places listings for 'Web Design' terms along time ago, though maybe the effect of Google Pigeon is to have boosted directories such as Gumtree in the Organic search results as well.
I've also noticed that one of my own directories Graphic Design Belfast is no1 in Google for 'Graphic Design Belfast'.
3 Comments »