Google's PPC v SEO War
Last week saw Google remove the text ads from the right hand side of it's desktop search results. The 8 ads that seemed glued to many search results and appeared on desktop search are no longer appearing.
An additional 4th ad may appear in the search results for 'highly commercial queries', something that Google's been testing for a while. The 4th Ad can benefit from showing all the ad extensions, including site links, call outs and location extensions.
The screenshot below shows 4 ads at the top.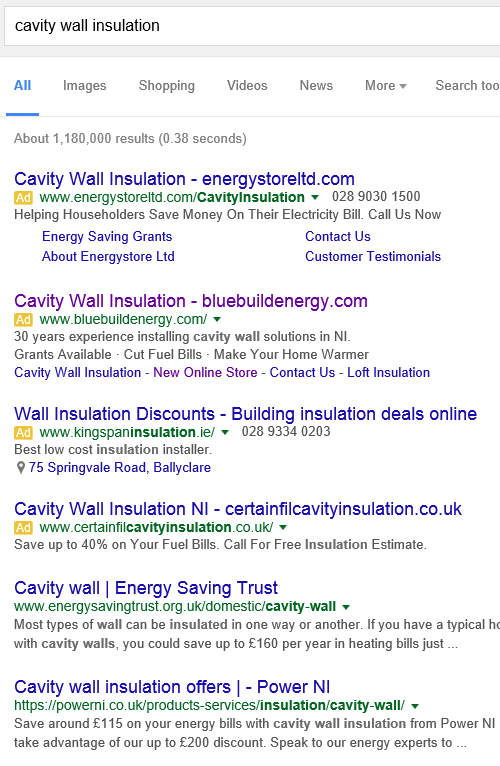 What is Google going to do with the big white space on the right hand side? Well, it's Google! So it'll be used to generate money, whether that's showing more video, display ads or even paid local listings. Occasionaly if warranted Google has been showing shopping ads like below.
3 ads are showing below the non-paid organic listings.
SEO The Biggest Loser
Bit by bit SEO is getting slapped. The first organic result is getting pushed further down the pecking on some searches. However it should be noted that this just applies to desktop queries, which are suffering at the hands of mobile, and apparently it's just for 'highly commercial queries'.
The only thing to do is carry on with your SEO strategy, and if you haven't done so already, run ads with SEO. Carry on trying to improve your page titles and meta descriptions and try and improve the CTR (click thru rate). For commercial searches, write your page titles and snippets more like ads.
Thoughts
In it's own non-paid listings, Google actually punishes sites that are laden with ads above the fold. I know, and have experienced this!
Their own site/search results goes against their own guidelines and advice, which in a nutshell, warns us not to plaster sites with ads above the fold.
Many fear with less space, competition may increase and bids may be driven up. Ad prices in some markets are already astronomical, so it's a wonder if this will happen.
Won't be long before a fifth ad is introduced.