How Webmaster Tools Can Help Small Businesses
Linking Google Webmaster Tools with your website is an absolute must. Aside from the software being free, other perks include the ability for webmasters and site owners to ensure that they're running a healthy and well optimised website.
If you're a small business on a budget, Webmaster Tools offers the same value and more as other commercial SEO tools – but you just need to know what to do with the data in your interface to make the most of it.
In this article, I'm going to highlight the most important characteristics of Webmaster Tools that will benefit the small business.

Why is having a Google Webmaster Tools Account important?
Google Webmaster Tools should be a fundamental part of any website with serious plans to increase their website's performance both in Google and for on-page issues.
This free service from Google which has developed over the years, can give you valuable information as to how your website is performing and what changes are recommended. Getting a free healthcheck from Google themselves can't be ignored.
Within Webmaster Tools you will be able to find what is and what is not working – what terms you are ranking for, how Google crawls and indexes your site's content, issues and errors with your website and opportunities to improve your SEO.
Getting started with Webmaster Tools – verifying your site
Setting up Google Webmaster Tools is a quick and easy process. If you already have a Google email address or Google account, you'll be able to use Webmaster Tools, just login and navigate to http://www.google.com/webmasters in the address bar.
Once signed into the system, click the 'Add a Site' button and input the domain you would like to setup.
Next you need to choose the verification method you prefer. The following options are available:
HTML tag
Domain name provider
Google Analytics
Google Tag Manager
Google provides plenty of ways to verify your site and has an easy-to-follow set up guide for each of the methods of verifying your account.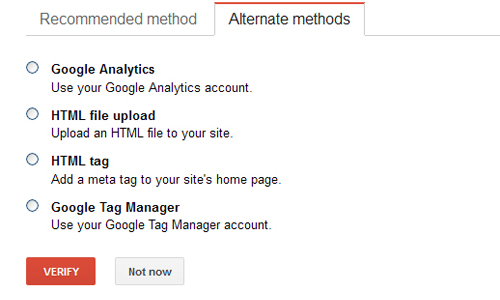 I've always tended to upload a HTML file, though I see the recommended way is the 'Domain name provider'. I tested this out on a GoDaddy domain as I wrote this article, it was very easy and just required having login details for the GoDaddy account.
How you can use Webmaster Tools to optimise your site
Webmaster Tools can be great for both on and off-page research. I'm now going to walk you through the most crucial menu tabs on the left-hand side:
Search Appearance: Structured Data
Structured data helps Google to better understand the content and information on your webpages which can then be used to display Rich Snippets in the search results. When a user views your website, it may be obvious that it's a recipe page, but for Google it might not be clear and this is where structured data helps.
Rich snippets are detailed pieces of information that appear within Google's organic search listings to help users with specific queries. An example would be the time to cook and the number of calories in a recipe that you search for in Google, a photo and an average rating out of 5 stars. A snippet for a song often includes the artist, the album it was on and the year it was released.
Here's an example of a listing for chocolate pudding that has been marked up to display a review star rating, the cooking time length and the number of calories per portion:
Since June 2011 Google & Bing have introduced Schema.org to help create a set of standards for marking up your web pages.
Google recommends visiting Schema.org to help markup your pages.
Google supports rich snippets for the following content: Businesses and Organisations, Events, Music, People, Products, Recipes and Reviews. Google is also able to recognise markup for video content.
The reason why rich snippets are recommended is because studies have shown that listings displaying rich snippets can poach visits from the top spots. And once businesses have marked up their content using rich snippets, they have seen an improvement in their click-through rates.
Keyword Research
By visiting Search Traffic -> Search Queries you can view the top queries to your website in Google's organic results, information that Google Analytics has not been giving us since September 2013.
Although the accuracy of this information is questionable, it is certainly helpful. By going through the list of keywords, Webmaster Tools shows you the keywords which are ranking well but maybe not number 1.
Immediately these could or should be keywords you want to optimise to help you reach position 1 and increase your traffic further. When I say optimise, I mean readdressing your on-page content to see whether these keywords appear, as well as creating content on your blog and constructing an effective link building campaign to attract links to your website.
Page Titles & Descriptions
Your Search Queries data is also useful for working out which pages are underperforming in Google's results in terms of attracting visitors to click on your page(s).
Look for search queries that have a high average position but a low click through rate. Search for these in Google to view the corresponding page titles and descriptions that may shine a spotlight on why you're not attracting a higher click through rate.
Links To Your Site
Under the Search Traffic -> Links to Your Site tab you can find a list of links pointing to your website. Unfortunately, this is not a full list of links but Webmaster Tools does give you a good portion, and includes all of your important ones.
As well as the links into your site, Google has also listed which pages on your site have the most inbound links.
Knowing what links are pointing to your website is always useful. You may find sites that you can go after for further links. Plus, it's also important to know about inbound links in case you get hit by a Google Penguin or Manual penalty. More on that later…
HTML Improvements Tab
The HTML Improvements tab in Webmaster Tools is essentially a basic on-page SEO audit. This section will display potential issues with duplicate, too short and too long page titles and descriptions, as well as missing Meta descriptions, plus non-indexable content.
If you have any pages highlighted in this section, it is recommended that you go through the pages to fix them.
How you can use Webmaster Tools to discover problems with your site
Manual Penalties
Webmaster Tools is the only place to go to find out if you have received a Google manual penalty.
Websites receive manual actions or a manual penalty for using what Google deems to be "black hat" SEO tactics to build links to your website. These techniques include, mass directory submission, too many links from low quality sites, over optimised anchor text links to manipulate rankings, paid links and deceptive linking.
If you have used any of these (not recommended SEO tactics), it's likely that you'll be hit with a penalty. You'll be notified under Search Traffic -> Manual Actions.
An example of a Google manual penalty warning is as follows:
If you find such a message, it's likely that you will have stopped ranking for your keywords, traffic levels have dropped or that Google has kicked you out of its index completely.
In order to regain your rankings and traffic, you'll have to carry out a backlink clean-up and you'll have to submit a reconsideration request via your Webmaster Tools account, under Manual Actions and then by clicking "Request a review". It is recommended that you ask a professional to help you to do this in order for your site to have the best chances of being re-included in Google's index.
Disavow Tool
The Disavow Tool was released in October 2012 and allows Webmasters to report low quality links pointing to their website and tell Google to discount them when it comes to ranking their domain. The tool has been encouraged by Matt Cutts to help websites recover from both manual and algorithmic link penalties, allowing the site owner to wipe the affect of the low quality links from their sites link profile.
Site Messages
At the top of your dashboard you will find Site Messages. Here Google lets you know of issues it has found with your site – a number of pages not found, Googlebot unable to crawl your site or available updates in WordPress.
News here can also be more serious – malware threats, suspected hacking or results of your reconsideration request submission.
It's all new bad news though – sometimes Google likes to inform you that you've had a big increase in traffic.
Crawl Rate
Under Crawl -> Crawl Errors in your dashboard you can view any issues Googlebot has found when crawling your site. Depending on how popular your site and how often you update your content, this will determine how frequent Googlebot visits your site. This can be from several times a day to once a week.
Webmaster Tools shows the activity over the past 90 days for any Server Errors, Soft 404s, Access Denied or Not Found. Once you have amend the issues you can even mark them as fixed.
Fetch as Google
The Fetch as Google tool in Webmaster Tools allows you to see a webpage on your site as Google sees it. This gives you the opportunity to spot and troubleshoot poor performing sites in Google's search results.
This tool allows you to view your website how the Google web crawler and mobile crawler sees it.
On one occassion I had a homepage that wasn't appearing in Google. When I viewed the source code in the browser all seemed fine. It was puzzling as to why the homepage wasn't being indexed. Running this feature solved the problem and showed that when Googlebot visited the homepage, no index code was inserted to stop Google from indexing the page.
Blocked URLs (Robots.txt)
Robots.txt allows you to block pages you do not want indexed in Google. This is useful for login pages, archives containing duplicate content, directories and any files you feel don't need to be in the search engines' results.
The Blocked URLs section is an online version of the robots.txt file – the quickest, easiest way to access it!
Sitemaps
The Sitemaps option allows you to notify Google about URLs on your website that you would like for it to crawl. You can submit and/or check your sitemaps within Webmaster Tools. This can be useful if your site has dynamic content, if your site is new and has few links to it or even if you have a large archive of pages that are not all linked to each other.
URL Parameters
To help prevent Google from crawling and indexing pages with identical content and creating duplicate content in their index. Should Google detect duplicate content it will select the one it thinks is the best to represent in the search results, dropping the other(s).
The URL Parameters option in Webmaster Tools allows you to eliminate these issues.
Set geographic target
If you have a generic top-level domain such as .com or .net but your website targets a specific country you can help Google out by changing your geographic target within Webmaster Tools. This is useful for geographic queries
Google relies on signals such as IP address, inbound links, information on Google Places and even information on your website itself to determine your target if you do not specify it.
If you have a country-coded top-level domain such as .de your geographic target is set automatically to your specific target (in this example, Germany) and you will not be able to change it.
Security Issues
Webmaster Tools notifies users when it believes their website may have been hacked and/or injected with Malware or spam. The notifications go into the Site Messages section within your dashboard.
If you have been a victim, Google also provide articles and videos to help you along the way to recovery.
Another notification provided in Webmaster Tools regarding issues with your site is if your software is out of date.
Author Stats
The Author Stats under Labs in the dashboard allows you to find out how often your content is appearing in Google search results. Webmaster Tools gives you details of the number of impressions, clicks and average position of pages found in Google when your content is linked to your Google Profile.
Linking Webmaster Tools with Google Analytics and AdWords
Google Analytics
If you're new to Webmaster Tools, you might also be new to Google Analytics. You can use the same Google Account associated with your Webmaster Tools account to log in to Google Analytics. But in order for Google Analytics to start collecting data about your site, you'll have to add a piece of web tracking code to your website. You will find this within your Google Analytics account under your web property.
Once this is all set up, you'll start to see some interesting stats about your website. In terms of Webmaster Tools, there is a Search Engine Optimisation tab under the Acquisition heading within your Google Analytics account. Here is how you can see your Webmaster Tools data within Analytics. Not only is this helpful so that you won't have to keep switching between the two, but you'll also be able to see which keywords people have used to find your content and how many impressions your content has had.
To enable this, simply click Manage site -> Google Analytics property on your Webmaster Tools homepage and simply select the web property you would like to associate with the site from the list of accounts below and the click save.
Google AdWords
By linking your Webmaster Tools account with Google AdWords allows you to quickly compare how well you are performing for both organic and paid search terms.
Setting this up should help you spot both new organic and paid search opportunities and help you consider adjusting your keyword bids.
To link these, login to your AdWords account, click on Account Settings -> Linked Accounts, under Webmaster Tools click View details. In the text box at the top, enter the URL of your site that you want to link. Click Continue to complete the setup.
Webmaster Tools is an ideal piece of software for the smaller business because it's free and it allows webmasters & site owners to carry out basic but crucial optimisation. It's now one of the first things I do.